Grace Loves Lace – The Golden Hour Collection
Schon seit langem sind wir von den hinreißenden Brautkleiderdesigns des australischen Labels Grace Loves Lace fasziniert.
Ein kreatives Team von 11 talentierten Visionären kreiert zauberhafte Designs voller Leichtigkeit und jugendlicher Frische für die moderne, freigeistige Braut, die mit ihrem Styling ihre Persönlichkeit unterstreichen möchte und nicht mit alten Traditionen verhaftet ist.
Die raffinierten Schnitte werden aus kostbaren Materialien, die aus der ganzen Welt angekauft werden im eigenen Studio in Queensland, Australien handgefertigt.
Nun stellte Grace Loves Lace seine neue wunderschöne Kollektion "The Golden Hour" vor.
In der atemberaubenden Kulisse von Kangaroo Island in Südaustralien wurden die neuen Modelle in erstaunlichen Bildern festgehalten.
Übrigens könnt ihr die Kleider im Onlineshop von Grace Loves Lace erstehen, sie werden weltweit verschickt.
Lasst euch verzaubern von diesem himmlischen Bilderparadies – mit diesen Worten könnt ihr in die verträumte Stimmung dieses Shootings eintauchen:
"The ground was hallowed, the air un-breathed. It felt ancient, holy even, so much so that we found ourselves speaking quietly, individually taking moments to pause and just look around, drinking of the landscape.
It was the kind of beauty that makes you want to weep tears of quenched wanderlust, the feeling of having seen, felt, and awoken to things you have experienced only in your souls' core and minds' eye. We trod carefully, every footprint de-materialising, immediately fading back to gold as we passed, as though Midas himself were rearranging everything back into glittering order.
The colours were beyond spectral colours, they were of another realm, unnamed, settling softly on our senses and rendering us spellbound, a catatonia of magnificence. Every direction was a leaping postcard of perfection, you could scarcely stop yourself from reaching out and caressing the atmosphere. Here in this heavenly realm, the pregnancy of focus, vision, inspiration, and excruciatingly hard work came to fruition.
We birthed nine long months of passion and dedication to bring to life our beautiful new collection, and it was the experience of our dreams. With hand on heart we hope that it gives rise to a realised dream for you too, and as you plan your own hallowed wedding day, we aspire to join with you in making truly magical memories you will look fondly back upon all the days of your life."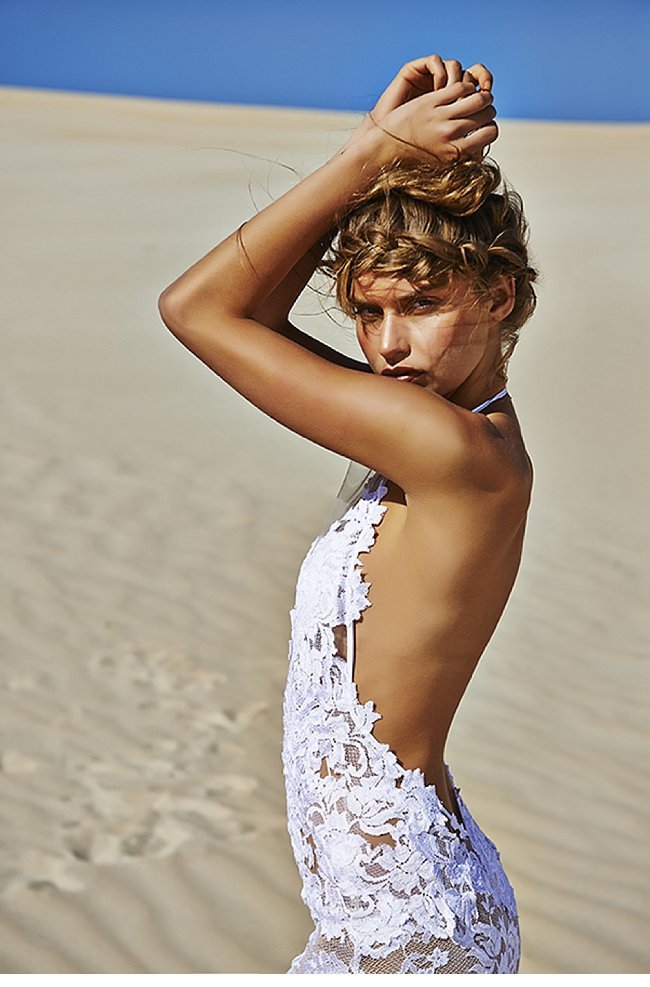 WEDDING GOWNS: Grace Loves Lace
PHOTOGRAPHER: Kane Skennar
ART DIRECTION: Megan Ziems
MODEL: Avril Alexander
HAIR + MAKE-UP: Melissa Smith (Bonjour Cheveux)
LOCATION: Kangaroo Island, South Australia